The Twin Lakes: A GenOne Custom Home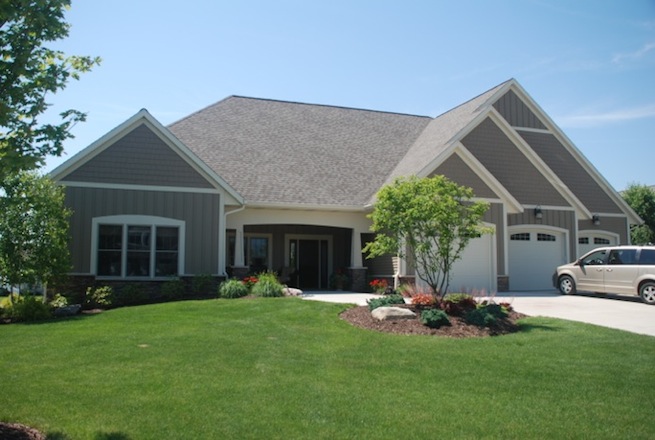 GenOne Architectural Group is particularly proud of the Twin Lake home. Custom-designed for a family with two wheelchair-bound children, it required many changes to a traditional home design in order to allow the entire household access to all of the amenities of this amazing home.
As with every GenOne custom home, we worked closely with the homeowners to create a home plan that truly fits their lifestyle; the need for barrier-free amenities added to the challenge, but the finished home is a testament to the family's desire to create a warm, inviting, comfortable environment.
Located in a family-friendly neighborhood, this large 4-bedroom home has many features, including a three-stall garage, a large covered front patio, a sunroom overlooking a lovely small lake, a large basement rec room, and much,much more. To make the home accessible for all family members, changes were made to the design that make the Twin Lakes home a bit different from the norm, without taking anything away from its' overall appearance.
Some of the homes' wheelchair-accessible features include: A completely flat front entrance with no steps and a large covered entryway to keep rain and snow away; wider doorways throughout the home to allow for easy wheelchair access; a custom kitchen with specially-installed dishwasher and microwave; lowered counters and other fixtures; open-air design throughout the home for easy wheelchair navigation, a wider stairway to allow for a motorized wheelchair ramp, and more.
The Twin Lakes home was created by GenOne Architectural Group for a family with very specific needs; our expertise allowed us to create a home that satisfies these requirements, and make the home a gathering place for family, friends, and neighbors.
Return to the main Custom Homes page