GenOne Architectural Group - About Us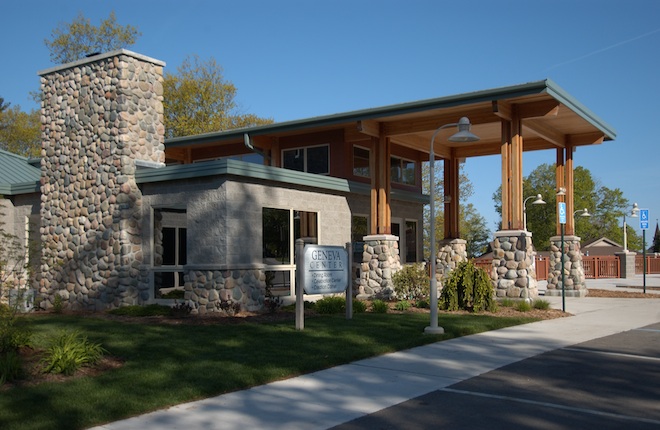 There's no one word that best describes Gen1 Architectural Group. We prefer to let our work speak for itself, and what those finished projects display is passion, quality, integrity, and experience. We stake our reputation on every design we create.
Gen1 Architectural Group is a re-organization of the firm of VerBurg + Associates, which was responsible for many high-quality commercial projects in the West Michigan Area since 1982. Two of the key players from VerBurg + Associates, David VerBurg and Edward Zwyghuizen, have formed Gen1 Architectural Group to continue their tradition of design excellence and innovation.
Celebrating over 30 years of in-depth experience, Gen1 Architectural Group and VerBurg + Associates has emerged as a proven design leader in the Western Michigan Community.
Our extensive and varied experience gives us the ability to offer unsurpassed design services. Whether it's a new commercial building or the custom home of your dreams, Gen1 can create a design to exceed all expectations. Our horticultural and landscape design expertise then puts the finishing touch on any project.
A new building, commercial or residential, is often the largest single investment many of us will ever make; we approach our design work without ever forgetting this. We offer creative, imaginative approaches and solutions to meet your every design need, but our job isn't done when we hand over a design plan; a plan on paper is just part of the process for Gen1. We give you professional guidance throughout every phase of your project's construction, including planning, design, and construction. We provide a service and a product to give you, the client, the best possible design solution.
We take the time to analyze and define your needs and desires, as well as factor in budgetary requirements. We then develop and revise the design with your full involvement, coordinate the permit process, and monitor construction with regular on-site visits so that the project is built according to all plans and specifications. Consistent, reliable communication between Gen1, the client, and all involved construction parties is critical to creating a finished building that meets, and exceeds, the clients' every expectation.
Please take the time to call or email to set up an appointment; we would love to hear your ideas, dreams, and design needs and discuss how our personal service can help translate them into reality.
That's who we are...Here is what we do:
GenOne Design
Your home is your palace, your retreat from the hustle and bustle of the outside world. GenOne Design is dedicated to residential custom home design, and dedicated to making your dreams of home come true.
GenOne Commercial Design
Large or small, GenOne is ready to make your place of business stand apart from the competition. Our expertise lies in designing structures that are highly-functional, efficient, cost-effective...and beautiful. From fire stations to corporate headquarters to craft breweries, religious institutions and beyond. We do it all.
GenOne Engineering
Gen1 Engineering is a separate but integrated arm of Gen1 Architectural Group, we're here to handle the technical side of architecture and design.
GenOne Architectural Group: Affiliations
GenOne Architectural Group is proud to be a member of several prestigious Professional and Green Building organizations.
Groups We Support
Being successful in business is one thing; being successful as a member of the community is another, equally important part of GenOne Architectural Group. We are proud to support these important charitable organizations.