3D Custom Home Rendering: 21st Century Design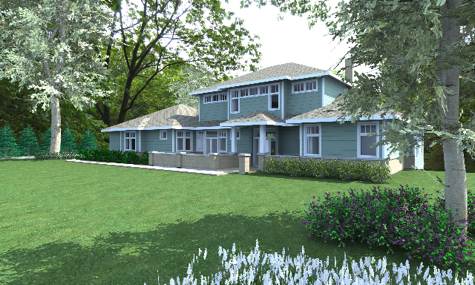 Gen1 Architectural Group gives our residential clients exceptional one-on-one personal service to create with them the home plans of their dreams. We also have the ability, with state-of-the-art computer hardware and software, to give our clients an unsurpassed vision of what their finished home will look like, inside and out, before any dirt is shoveled or hammer nailed.
The Gen1 process involves extensive, in-depth conversations with our clients, discovering their wants and needs; this includes visiting the building site together whenever possible, to get the "lay of the land" and start early ideas for the home.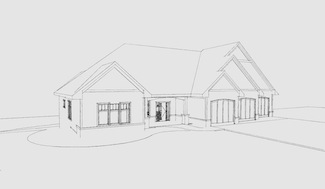 Hand Sketch Renderings are the basic form of computer-aided design, and are provided to all of our clients as part of any contracted services we provide. These early hand sketch renderings (often started on-site and literally drawn by hand during the very first consultation) are fleshed out and refined over time in the computer (and with continual input from the client) until a final design plan is reached. These traditional 'blueprint' drawings give clients an accurate portrayal of their finished project in detailed black-and-white renderings.
For those residential clients who want a more detailed look into the possibilities of their home project as well as unsurpassed flexibility in design choices, Gen1 Architectural Group offers Marker Style Renderings and 3D Design Rendering as additional services.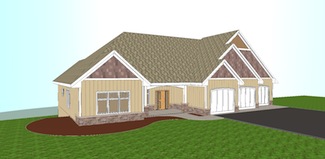 Marker Style Renderings are higher-quality drawings, adding detail and color to provide a more realistic portrayal of a buildings' look and feel than the more simple hand sketch render can provide. Marker Style Rendering is available upon request to customers looking for a bit more detailed visualization.
For those residential customers who want a more detailed look into the possibilities of their new home, as well as unsurpassed flexibility in design choices, Gen1 Architectural Group offers 3D Design Rendering as an additional service.
Our 3D Rendering Services (see top photo) provide the ultimate in detailed visualization for our customers. Gen1 Architectural Group utilizes a powerful drawing program called ArchiCAD, running on high-end Apple computers, to create a virtual world for our clients' new dream home to exist in before it becomes a brick-and-mortar reality.
It lets us work and think in three dimensions, and allows the owner to see an image of the finished home before its even started. The 'virtual 3D home' can be viewed inside and out, from any angle. Colors can be changed, room sizes can be tweaked; the imagination is our only limitation, and between our designer and the homeowners, a final version of the home plan is created. This reduces costs by eliminating the unknown, produces efficient documentation and provides the owner clear and concise visual documentation.
Gen1 Architectural Group: Combining human talent and 21st-Century technology to give our customers the home design of their dreams.