GenOne: Financial Projects
A look at some of the design projects created for financial institutions by Gen1 Architectural Group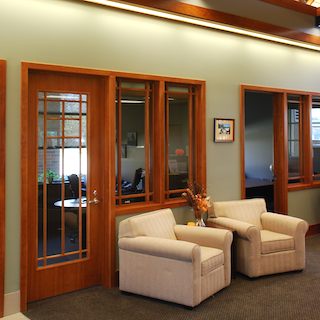 AAC CREDIT UNION
The first think customers are welcomed with is a rich, warm lobby filled with abundant wood detailing and soft, up-lighting. The teller lines were rotated at a 45 degree angle toward the main entrance, giving an even more welcoming feeling to this hometown branch bank.
Find more about AAC Credit Union here.
---

FIFTH-THIRD BANK - ZEELAND
The scope of the project was to add additional teller lines, offices, expand the library and add additional lines for drive-in banking as well. Along with these requirements, they wished to have a fresh, new look that was inviting to the surrounding community.
Find more about Fifth Third Zeeland Branch here.
---
Additional Gen1 Projects:
- Chemical Bank, Hastings Michigan: Drive-Through Reconstruction Design
- Wyndotte Federal Credit Union, Holland Michigan: Master Planning
- Fifth-Third Bank, 32nd Street Branch, Holland Michigan
- Fifth-Third Bank, 16th Street Branch, Holland Michigan
- Fifth-Third Bank, Northside Branch, Holland Michigan